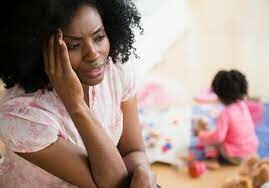 My husband at the time was about to go away to Iraq, and I found out I was pregnant again. I had a panic attack when he was getting ready to leave. I did not know why I was so upset about him leaving, but I believe what I was really feeling was how am I going to take care of two children alone? So, I moved back home because I was not going to stay by myself with two children.
When he returned home, I was so excited to see him because it had been a year. When he came to us, he was different. He did not respond to the way I looked, nor did he care. I said to myself I have done it again. I am thinking how can I please this person who actually told me he doesn't love me? I thought I needed to keep my vows, but at the time, I had not known what love really was. He saw the children and gave them a rub on their heads and said he was tired and went to bed.
I wanted to celebrate him being home, but he was not interested in celebrating nor was he interested in being with me. So, I just sat up and cried half the night because my love bucket was empty. I wanted to take care of my children, but my stress was rubbing off on them.
Children feel your pain and anxiety. In fact, stress can be spread from parent to child. My children saw me struggling most of the time and it really rubbed off on them, and I never noticed it until it was really late. I would not spend time with them, but I felt like if I worked and provided for them that would be enough. That's how my dad did for me, and I had not realized that it rubbed off on me. He did the best he knew how, but in order for my children to grow up without depression and pain, I needed to make a change, and begin making time for my children.

In one study, babies were kept apart from their mothers for a short time while the moms completed a stressful task. When reunited, the babies showed signs of stress, too. While I tried to deal with my stress alone, I was passing it off to my children.
Take the time to destress and deal with what you are going through because, in the long run, you want yourself and your children to be healthy and whole. I am praying for all the mommas out there who are dealing with stress and anxiety. If you are interested in joining my community where there is no judgment, only love, you are more than welcome to join us here. I give help for knowing how to make time for you and relax as well as teaching you about the different soul wounds and limiting beliefs that can be causing your pain. Make time for you to become who you are desiring to be healed and whole.
You can also get my Mommy and Me Infant massage course at a discounted rate if you have been reading this blog, and you must put the code VIP in the checkout area so you can receive the discount. For Thanksgiving, there is a sale going on and you will receive it at an even lower price when using the code THANKSGIVING. The toddler course is on the way! I look forward to serving you and living life together as we figure out how to live free of stress in this world.