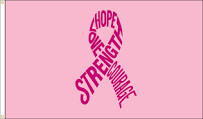 In honor of Breast Cancer Awareness in October, I would like to share about how God is able during your storm. No matter what comes your way, always know you are not alone! God loves you and He is faithful. Don't let your trials break you. Use cancer to revive your prayer life and meditate on His laws.
I know many women who have dealt with breast cancer, undergone surgeries, chemotherapy, and radiation. While I have not endured the pain from these conditions, I have seen survivors who have more joy as they are strengthened by the goodness and joy of the Lord being their rescue.
If you have cancer, if the doctors have written you off, if you think that you can't face another day, and if you think there is no place or person to turn to; and there is no hope... Think again.
Sometimes we go through things in life and wonder why we must deal with things of this nature. While we go through them, why not figure out how to stay close to God during it all. Remember this: No weapon formed against you will prosper. You are more than a conqueror through Christ Jesus!
Treasure and hold on to Jesus amid your trials because He will never let go of you! Use your cancer as a testimony, and hold on to God's promises, because He will guide you and direct your path in the truth of His Word. Seek peace in the Lord, knowing that as you go through the storms of life, you have peace that surpasses all understanding. Ask God to give you that type of peace as He brings you through your storms.
God can carry out His purpose and do more above all we ask or think according to His power that is at work within us (see Ephesians 3:20). You have God's power in you. Hold on to His unchanging hands as He gives you power and strength to endure the race to the end. You got this, my dear Sister!
As my mom, aunts, friends and grandparents have dealt with cancer, I appreciate their walks. Some did not want to talk and share in the beginning, as many may not, but as they went through their seasons with cancer, they stayed focused on God, and He led them through and they made it through victoriously. While some have passed away with cancer, they still were triumphant in their fight because they were courageous and had so much joy in Christ, and God brought them home in glory where they continued giving God praise.
Don't feel like you have to have a "woe is me" attitude living through cancer. You lose your battle to cancer in that manner. Stay courageous and see the beauty in it as you get closer to God and become more joyful in Christ. I love you!
For more encouragement and empowerment, join my free community where I can continue to nurture and care for you in the midst of your season with support and care as you go through this chronic illness. God cares for you, and I do too! Click on the link
here
and continue thriving in your life! Blessings.